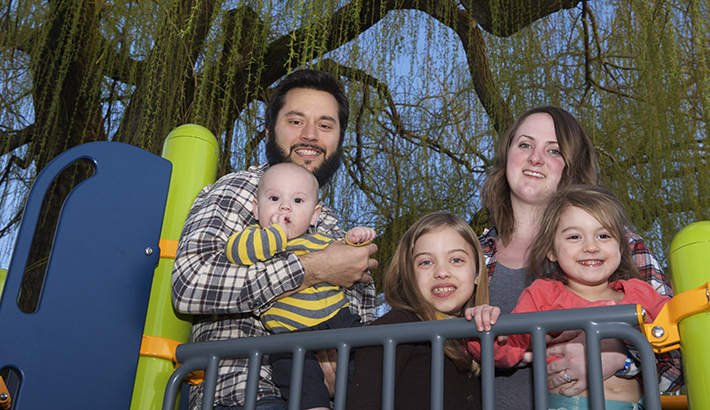 14 VISITS, 35 NIGHTS
THE ALVAREZ FAMILY is no stranger to Ronald McDonald Houses. When Kynzie was just 2 years old, she needed dialysis four times a week due to a rare genetic condition that affected her kidneys. The family, who lived in California at the time, found a second home at Stanford's Ronald McDonald House where they lived for a year. After receiving a liver and kidney transplant, Kynzie continued to need regular medical care, which meant spending months at various Ronald McDonald Houses up and down the West Coast.
Since the family moved to Bend, they have been regulars at Portland's two Ronald McDonald Houses, staying 14 times, totaling more than 35 nights. Kynzie's 3-year- old sister, Tessa, and 8-month-old brother, Asher, have spent many nights of their young lives at the Houses, allowing them to stay near their big sister during her regular doctor appointments.
"The kids love coming here, they look forward to the stuffed animals on the pillows and getting prizes out of the treasure closet," said Kynzie's father Trent. The treasure closet is a special feature of the Portland House, where every child who checks into the House gets a special "pirate coin" to redeem for one gift from a treasure closet full of toys and games.
The family's most recent visit coincided with Kynzie's birthday, and the toy she happened to pick out of the closet was the exact doll she wanted for her birthday. "She was very excited, as if it had been there just for her," Trent said. "The House staff always makes everything special for our children."
"Ronald McDonald Houses have always been there for us," Kynzie's parents Jamie and Trent said. "Having the House lets us focus on care, not how to pay for a hotel."
In addition to taking advantage of the games and activities in the House, the family is able to use donated passes to local attractions, such as family visits to the Oregon Museum of Science and Industry and the Children's Museum.
"The chance to leave the hospital and take our family to local attractions is the icing on the cake," Trent said. "It makes it feel more like a vacation for the kids and takes away the scary parts of the hospital."