The Winch Family from Sunriver, Oregon: 1 Visit, 99 Nights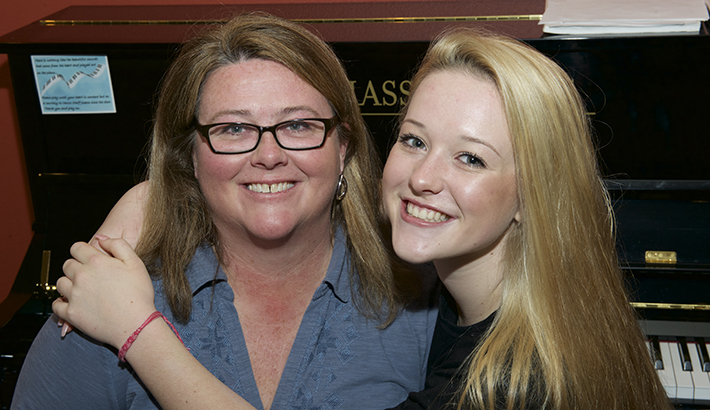 Sommer is an outgoing, artistic high school sophomore who has a larger than life personality. During her 99-day stay, her charm and talent radiated throughout our House as she filled our hallways with sounds ranging from classical music on the piano to beautifully-sung song lyrics.
Sommer, like many families who stay at Portland's East Ronald McDonald House, was in Portland for treatment at the Kartini Clinic, a medical and mental health treatment facility dedicated exclusively to the treatment of eating disorders in children and young adults. Last year, 45 families with children being treated at the Kartini Clinic stayed at the East Ronald McDonald House for a total of 2,337 nights. In the past five years, the House has helped nearly 200 Kartini families who traveled from across the state, the country and even other corners of the globe to get care at this specialized clinic.
Sommer made lots of friends in the House, and participated in countless activities while going through treatment. Whether it was playing Ping Pong with other guests in the game room or exploring the city, she made the best use of her time while recuperating.
"You are in a community of people going through the same thing," said Kelly, Sommer's mom who stayed at the House. "Having other parents to talk to going through the same situation made the process easier."
Sommer also loved the sense of community at the House. "The volunteers make every day feel special," she said. "From the carolers singing at Christmas to the decorated paper hearts at Valentine's Day, every little detail makes you feel special."
Without the Ronald McDonald House, Sommer's mom Kelly said she didn't know how she would have made it to the Kartini Clinic. Having the House "made it an easy decision" to get her daughter the treatment she needed.
For Sommer, the House was more than just a place to stay, but a place to connect with other families. "When I first came here, I was terrified," Sommer said. "This place gave me a reason to feel secure. It also makes me so happy to watch other people grow and get better."