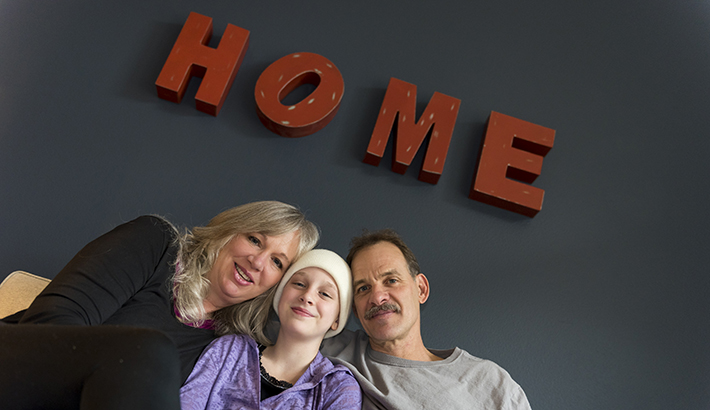 4 VISITS, 68 NIGHTS
It was a chilly Friday the 13th when 10-year-old Shelby came to her parents, Leianna and Ray, and said she didn't feel well. When she pointed toward her appendix, Leianna poked around and felt a lump. Within an hour of arriving at the hospital, her pediatrician had identified a tumor. The family packed their bags and left their home in Grants Pass. By that evening, they were at Portland's Doernbecher Children's Hospital.
After checking into the oncology floor, Shelby was whisked away for 5 1/2 hours of surgery. To remove the mass, doctors had to perform a complete hysterectomy, removing her uterus and ovaries. It was an overwhelming experience, and the family suddenly found themselves in a different city, dealing with something they never imagined could happen to them.
"All of a sudden our 10-year-old daughter had cancer," Leianna said. "We did everything right, we ate organic, we had a healthy lifestyle, and we couldn't stop asking ourselves —'why us?'"
Shortly after arriving at the hospital, a social worker approached Leianna and Ray, and promised, "I am going to relieve a few of your worries and burdens." And she did, when she booked the family a room at the Ronald McDonald House.
Having the House not only took away the burden  of finding a place to stay, but it also offered the family so much more — a comforting community where the family could rest and relax outside of the hospital. For Shelby, being cooped up in the hospital all day was overwhelming, but she added, "it's a relief to come back to the Ronald McDonald House." Not only did the House provide a comfortable place to stay, but it also provided an assortment of activities to help her and her family stay busy. Whether it was enjoying a delicious meal prepared by Ronald McDonald House volunteers or challenging her dad to a game of ping pong, Shelby always had something to do after long days at the  hospital.