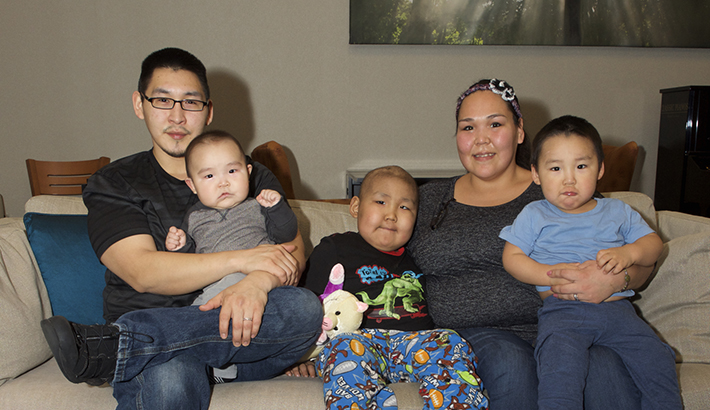 1 VISIT, 416 DAYS
WHEN 6-YEAR-OLD BERNARD started getting dizzy, his parents Grace and Randy thought his illness may have something to do with the water. Living along a remote stretch of the Kuskokwim River in Southwest Alaska, the concerned parents traveled to the town of Bethel where doctors recommended a brain scan. When they found a large mass, Bernard was sent via Medevac to Portland for treatment.
When the family left their remote Alaskan community for Bernard's treatment, Grace was five months pregnant. Walking into Portland's bustling Doernbecher Children's Hospital for the first time was unlike anything they had ever experienced at home. Looking back, Mom and Dad joke that there are more people in the hospital than in their entire community back in Alaska.
Despite the differences, the family has found a second home at Portland's West House Waterfront. The Ronald McDonald House provides a space for the family to stay together, creating the moral support Bernard needs as he undergoes months of radiation and chemotherapy. Having his brother Maximus by his side allows him to have youthful conversations and a constant friend. Bernard's support team grew a little larger when Grace gave birth to Vigo, who has spent the first 11 months of his life living at the Ronald McDonald House.
"We miss home, but we don't want to rush the doctors," Grace said. "We want them to be as thorough and accurate as possible with Bernard's care, and staying here allows us to have that time with our family."
To keep busy, the kids play with magnets and enjoy reading story books. When the weather is nice, they take walks along the river and enjoy the sights and sounds of Portland. The family even enjoys the local attractions as well, including  trips to the Portland Zoo. According to Bernard and Maximus, they especially enjoy the otters, penguins, bats and tigers.