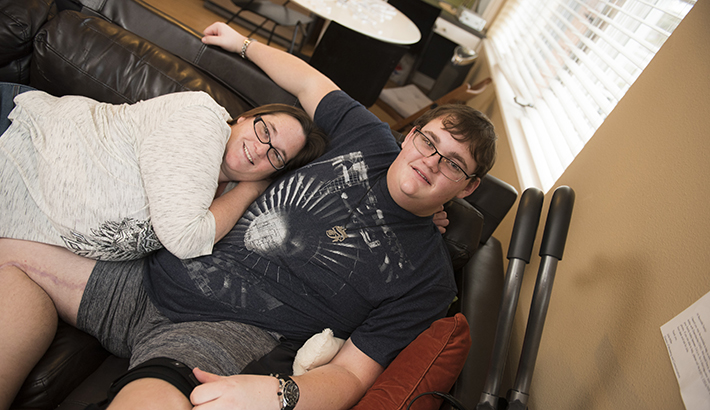 What started off as a bad leg injury suddenly became more serious, and Jacob was facing a life or death situation.
Jacob was at football practice when his foot slipped in a hole as he was being tackled. The fall created major damage to his leg, including a dislocated knee cap and torn ligaments. The damage was so severe, it led to Compartment Syndrome, which created excessive pressure and fluid buildup inside his body causing Jacob to go into congestive heart failure.
After taking a four-hour ambulance ride to Portland, he underwent several life-saving surgeries.
"I didn't know where I was going or what I was doing," Jacob's mom Denise said. "I just packed my bag." For the first night, Denise didn't leave her son's side. But they shortly found a room at the Ronald McDonald House.
"It became our home. It gave me a place to rest and recuperate while Jacob was being treated at the hospital."
Since their first visit to the House, the family has stayed several more times for Jacob's follow-up appointments and additional surgeries. For almost two years, they've been going back and forth to what they refer to as their "second home."
"When I came to this house, I started feeling better. They have family dinners, and other parents ask you how you are doing. You feel the love. They go above and beyond. It's nice knowing you have a place that loves and cares about you."
This Mother's Day, make a tax-deductible donation today to help ensure that moms like Denise can continue to receive our unparalleled compassionate hospitality – completely free of charge.